At Kids-fit we are passionate about helping our community beat obesity and anxiety issues that are plaguing our kids and families.
We partner with schools, childcare centres, and community groups to help kids of all ages improve their knowledge on how to create healthy fitness habits and what it means to feel calm and well. We also provide programs for special needs children, particularly children with autism.
Our programs are aimed at improving quality of life and have a strong focus on mindfulness, social skills, balance, strength, coordination and general fitness.
We love to work with families and our
Online Family-Fit program
focuses on the whole family getting fit, having fun and connecting with each other and getting to know other families. Those that train together, stay together!
Get in touch if it sounds like we can work together with your family, school, centre or organisation. We would love to be part of your journey in getting fit for everyday life!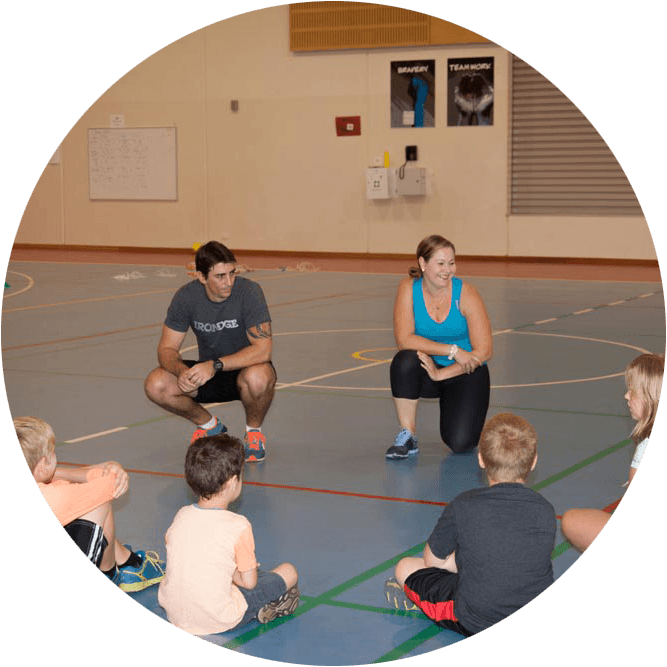 I grew up not really being interested in competitive sport, but enjoyed being fit, so it wasn't unusual to see me down at the local gym jumping into a fitness class. I only started playing competitive sport around 15 years of age, and played mostly softball, baseball, indoor cricket and soccer.
During my 20's I started getting more and more interested in teaching Fitness. I started studying fitness in my late 20's and just loved it! I love the fact that I can help another person take steps to make their life better!
I specialise in Mobility Programs, Strength and Conditioning and Functional Fitness for all ages. My absolute goal in life is to teach the tools to families and kids to keep fit for everyday life.
• Cert III and IV In Fitness • Beginners and Advanced Pilates • Yoga 200 hours • Rainbow Kids Yoga Certification • Functional Fitness • Beginners, Advanced and Group Kettlebells • AWF State Weightlifting & Sports Power Coach Level 2 • Powerlifting Australia Coach •
ASCA Strength and Conditioning Coach Level 1 • Mechanics of Lifting • Active After Schools Coaching • Children's Trainer • Working With Children's Card QLD and NT • Northern Territory Training Awards 2014 Finalist • Northern Territory Rural Women's Award 2015 Finalist • Social Cognition & Emotional Regulation – Truly Understanding Behaviour Certification •
I have been passionate about health and fitness since an early age and grew up playing a number of sports. This has instilled in me lifelong habits and a desire to help people, especially children and teens, develop themselves and derive as much pleasure, self-confidence and mostly fun from having a healthy active lifestyle as I have.
• Cert III and IV In Fitness • Beginners and Advanced Pilates • Functional Fitness • Beginners, Advanced and Group Kettlebells •  AWF State Weightlifting & Sports Power Coach Level 2• Powerlifting Australia Coach • Mechanics of Lifting • Active After Schools Coaching • Children's Trainer • Working With Children's Card QLD and NT • Cert IV in Training and Assessment • Currently studying a Diploma in Business •